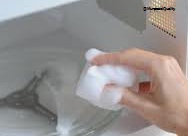 Clean the microwave with a lemon
30.10.14
Thanks to steam moisturizing lemon and loosens cooked and dry food waste particles, we can leave our microwave as the day we bought it. Also, the lemon will leave a delicious and fresh aroma.
Method:
Cut the lemon in half. Squeeze lemon into a bowl or microwave dish and add about 300 ml. (1 cup and 1/4) of water. Put the mixture in the microwave and turn the device on full power for 5 to 10 minutes: in this way we will let the steam fogging up the walls and ceiling of the microwave.
After that, clean up the microwave. You will notice that the dirt will go with unparalleled ease.
We can also clean the exterior of the microwave so that it is fully sparkling with the same liquid.
Source: wikihow.com
Compartir