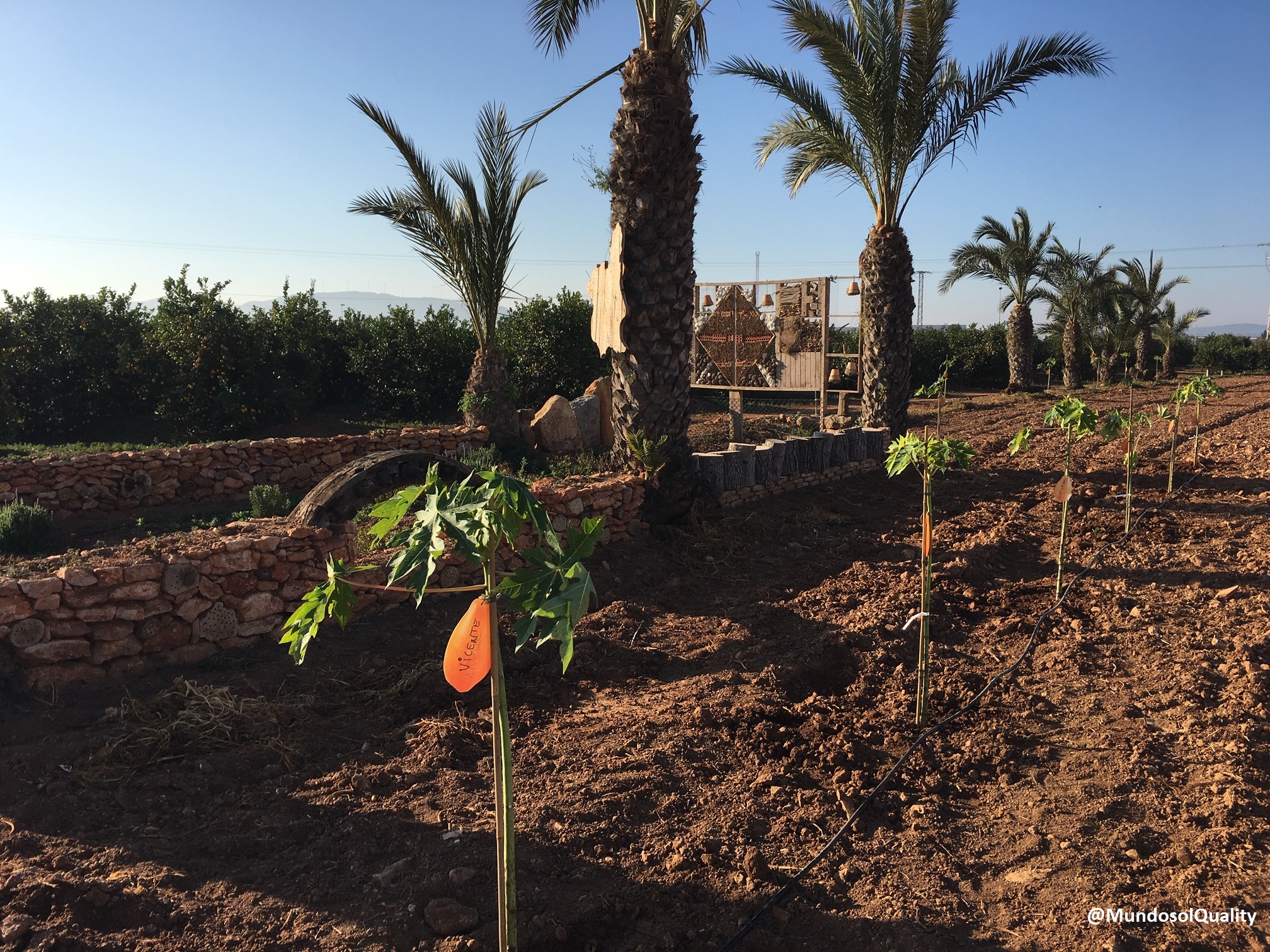 Enamored
Last week we received some copies of papaya to continue increasing the biodiversity of our farms.
This time, for our most benevolent farm in terms of climate, our El Pino farm located near the Mar Menor.
We have chosen this species, due to its interest in the natural control of the red spider (Tetranychus urticae). This is shown by the agronomist David López Romero in an essay on an extra early tangerine farm, thanks to the predator Stethorus the level of incidence of this pest was greatly reduced (https://www.phytoma.com/noticias/noticias-de-actualidad/murcia-ensaya-con-la-papaya-para-el-control-biologico-de-la-arana-roja).
In a social act these papayas were planted. With such enthusiasm we have received that we have even named them, each plant has the name of each of our employees of the farm (Photo 2).
Photo 2
The social harmony with nature is something that we take into account, since social and environmental policy is our obligation.
The sustainability of exploitation is increasingly closer to an ecological and natural balance, where phytosanitary treatments will not be necessary to eradicate pests, or that we believe from the Dto. Field Technician of Mundosol Quality.
As you can see in the photo that heads this post, the chosen enclave is very close to the parterre aromatics that we present in previous chapters, where queens bees enjoy this great area. Every spring is waiting for any insect that wants to visit us. A very aromatic spring, previous to the blooming of the blooms, the lemon, the orange blossom, the best.
While the winter is still giving its last throes, we are already prepared for our favorite season, the spring, and as good lovers and being Valentine today: 'The only fruit of love, is the papaya'.
Compartir